Self-Guided Online Life Story Writing Course
Everything You Need to Write & Share Your Unique Life Story
If Only You Knew How to Capture the
Essence of Your Life in Words…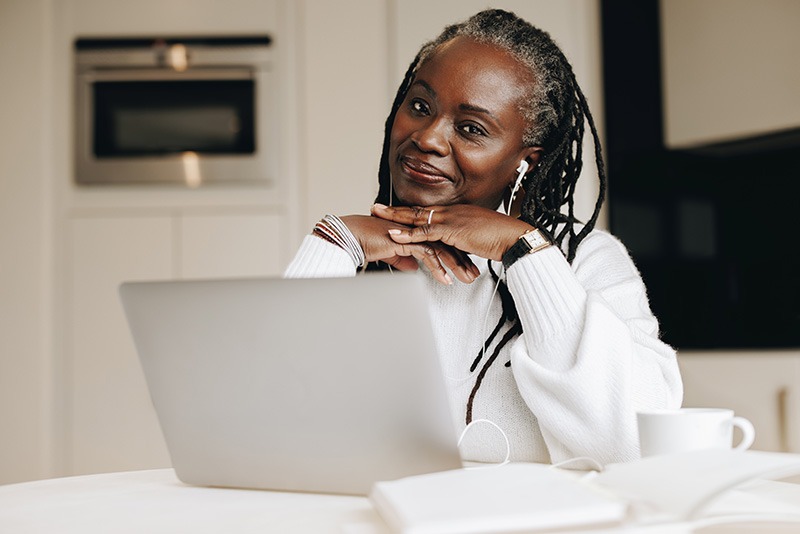 Writing about your life appeals to you but you don't know where to start or how to pinpoint the unique experiences that influenced who you've become today.
Being self-motivated and on a personal growth path for years, you've achieved a great deal in life. But writing about your life feels daunting and overwhelming. If you only had the structure and support you needed to capture the essence of your life in words, you'd stay focused, stick with it and follow through.
If this sounds like you, you're in the right place.
The Power and Purpose of Writing Your Unique Life Story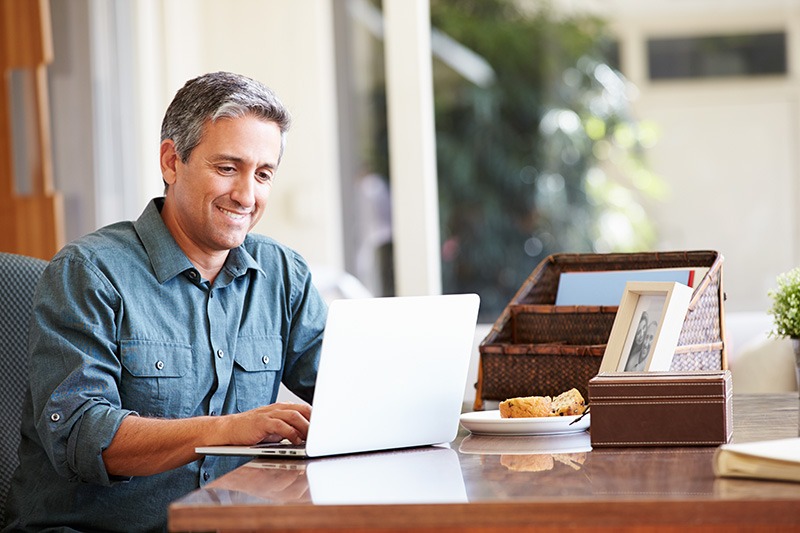 What is life story writing? Let's start with what it isn't.
Life story isn't autobiographical. Autobiography is a factual account of a person's life from birth to present written by that person. Details and accuracy are essential.
Life story writing isn't memoir. Memoir is a narrative told from the writer's point of view about a certain period of time or a meaningful theme in a person's life. Memoirs are typically written with the goal of publication, so elements of good writing, such as character development, story arc, dialogue and voice are very important.
Life story writing is for the rest of us. What makes life story writing different from other types of writing is it's more intuitive. We throw out the "rules' ' of writing and instead write a collection of stories in no particular order or theme. It's a way of connecting the dots of your experiences and how people and events impacted you from your unique perspective. Using this collection of self-selected stories captures the essence of your life in words, and helps you more readily see the lessons and the blessings.
But how do you know which life experiences to write about? Where do you find inspiration to write in a way that is honest, meaningful and self-compassionate? How do you write about the more painful experiences in your life without getting stuck in the emotions? How do you write about other people and situations that still feel unsettling?
These concerns often keep us from writing about our lives. We worry we aren't good enough writers or that no one will be interested in reading our stories or we won't remember details accurately or that we'll never find the time to write in between all of our other obligations.
And if you try to do this on your own, you'll most likely get stuck and struggle to stay focused and committed. The good news is there's a better and much easier way to get what's in your heart onto the page.
Imagine what it would feel like if …

You didn't have to go this life story writing journey on your own
You had a framework that made it easier to write about your life experiences
You had guidance on how to overcome writing obstacles
You had a structure that allowed you to reflect and write at your own pace
You were given tools and exercises to help you remember the moments and memories that shaped who you are today
You found inspiration using introspective prompts that led you deeper so you discover the gifts and lessons of pivotal experiences
You were part of a private online community that encouraged you to keep writing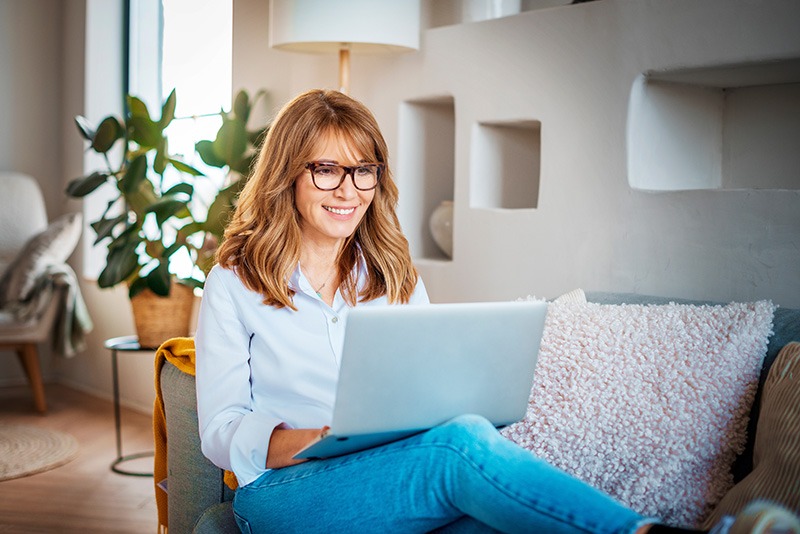 When you have the structure and support you need, writing about your life can be a fun, exciting and rewarding experience.
Life story writing is profoundly healing and helps you find clarity in who you are today, who you're becoming and the contributions you wish to make moving forward. There are many unexpected benefits that come from writing about your life including:
Feeling inner peace and a newfound excitement for the years ahead
Discovering the lessons in your life experiences
Recalling those pivotal moments where you showed courage, resilience and strength
Feeling more connected and cared for by the people who supported and empowered you along the way
Shifted grief, shame and regret to self-acceptance, self-love and a greater appreciation for everything you've lived through
Finding your voice, your wisdom and the impact you've made
Sharing your story provided hope and inspiration for others
Leaving behind a treasured family heirloom for future generations
This is the power and purpose of writing your unique Life Story.
If you're ready to write your unique life story at your own pace, you'll find everything you need to stay inspired and committed right here!

Self-Guided Online Life Story Writing Course
Everything You Need to Write & Share Your Unique Life Story
What Makes This Self-Guided Online Course Unique


A Unique System & Framework
You'll be guided step-by-step through my Life Story Writing framework where you'll recall and record life experiences that are worthy and deserving of being remembered. Through this self-discovery journey, you'll uncover the lessons and the blessings as well as make peace with the hard stuff including difficult people and situations you've encountered. This inner exploration helps you overcome your inner critic and express the moments in your life that fill you with a sense of pride. With engaging video lessons, introspective prompts, memory provoking questions, and visualization exercises, you'll feel inspired to keep writing.
Access to Intuitive Writing Software
Our easy-to-use software helps you write, edit, design and organize your stories with ease. You can upload images and choose a customizable cover that enhances the message of your life story. You can even create multiple Legacy Journals to share with different people in your life. Curious to see the features and how easy our writing software is to use? Video tour coming soon.
You'll feel right at home in this private supportive community with life story writers from all over the world. You'll feel safe sharing about your life story writing journey while also developing new friendships with others on the path.
Support with technical issues is always available via email. Whether you need help with technical aspects of writing or using our software, we're here to help.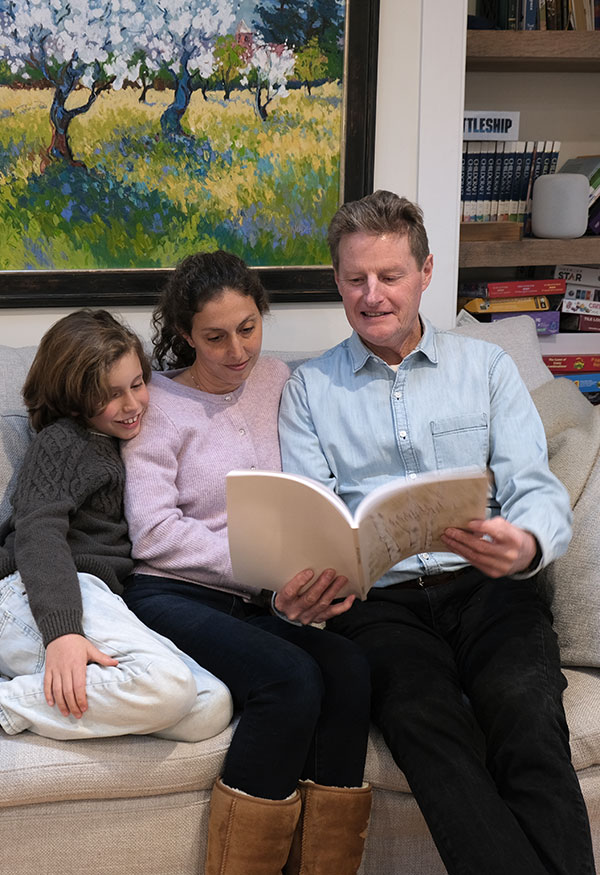 Have questions or need more information?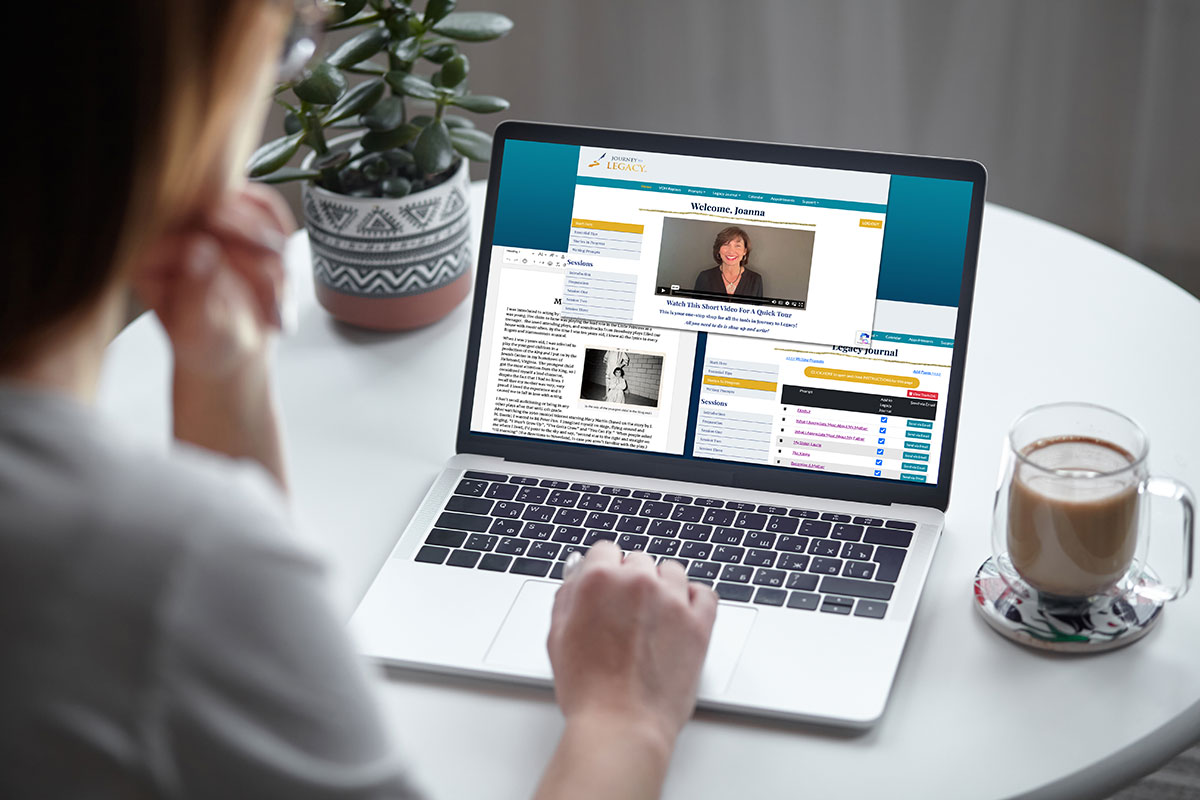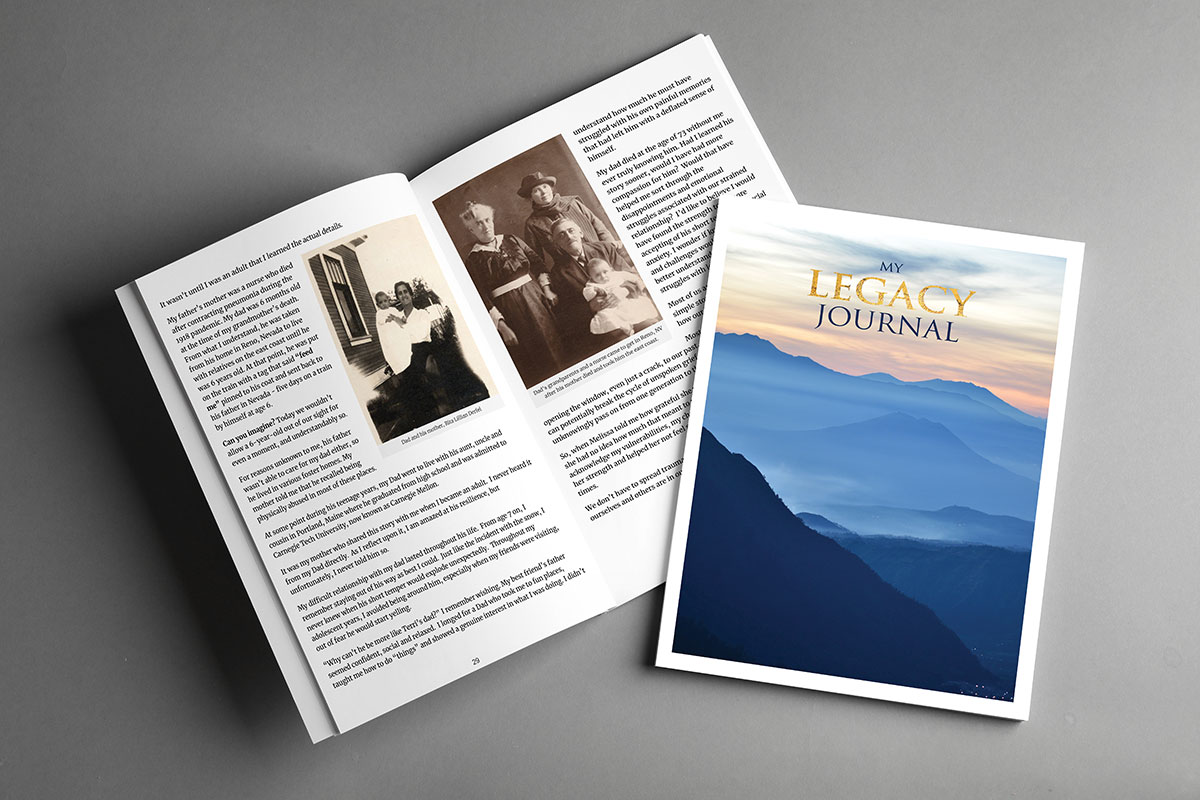 This self-guided online course includes 9 sessions with short and engaging video lessons that take you step-by-step through our Life Story Writing Framework.
Each session offers a workbook with interactive exercises to stimulate your memory, set your goals and intentions, and collect important information about yourself, your family and your life experiences.
Also included are intuitive writing tips and exercises, introspective prompts and guided visualization exercises to help you capture the unique essence of your life story in words.
Upon registering, you'll receive access to our self-guided course videos and our intuitive writing software. We also take you on a virtual tour through the software platform where you'll write, edit, organize and design your Legacy Journal with ease.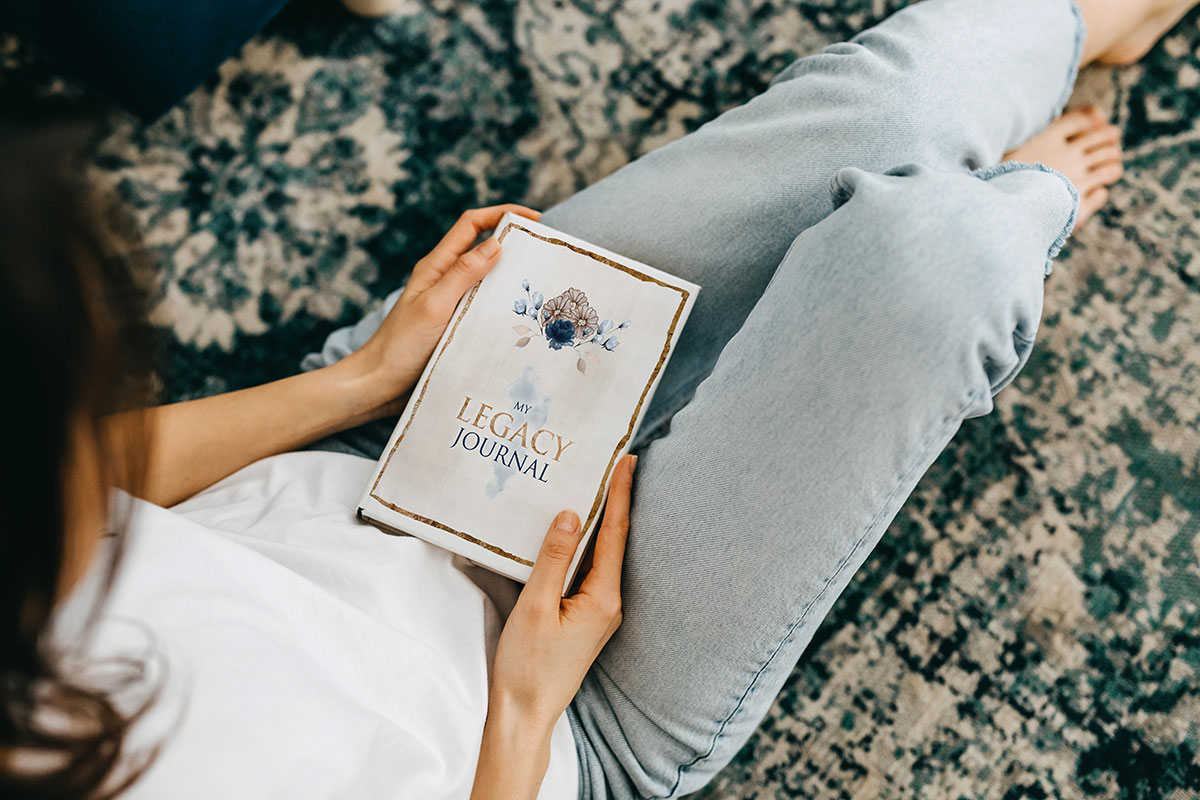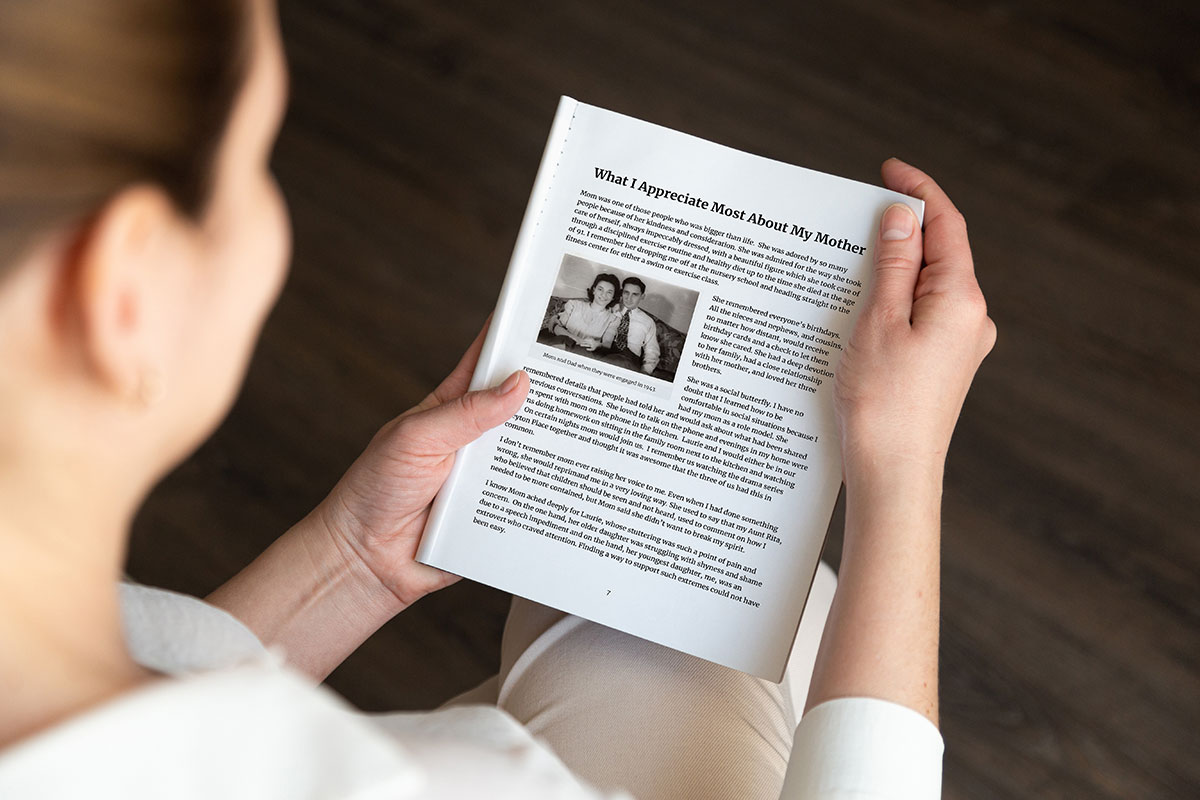 UNLOCKING YOUR STORYTELLING POSSIBILITIES
In this session, we'll explore the common fears and doubts that many life story writers struggle with – uncertainty, lack of confidence, fear of judgment, etc. You'll begin to learn effective ways to overcome these obstacles so you write about your experiences without interference!
I'll guide you through a fun exercise to help rein in any negative mindsets so you jumpstart the creative process. We'll give you a tour of our easy-to-use writing software program where you'll find inspiration for our stories and capture your creativity!
We'll show you how to organize and save all of your stories in one place so you can create custom Legacy Journals with the memories and moments that make your life story unique.
PREPARING FOR YOUR JOURNEY
In this session, you'll learn what life story writing is and why life story writing is simple in comparison to other types of autobiographical writing. Each video lesson in this module takes you on a personal journey that ignites your courage, clarity and confidence in writing about your life.
You'll be guided through an enlightening visualization exercise that helps you set a powerful intention to strengthen your commitment to writing so you stay on track. Finally, you'll learn the 10 essential elements to get into the ideal mindset for life story writing that sets you up for success.
USING THE 6-STAGE WRITING FRAMEWORK
(Introduction to the Hero's Journey Framework, Family, Routine, and Life-Changing Incidents)
In this session, you'll learn how to set the stage for your stories and why this is important. You'll be introduced to the six stages of the hero's journey – an empowering and relatable storytelling framework adapted from Joseph Campell. You'll experience a guided time-travel visualization exercise to help you recall important life events to create your Life Outline.
You'll revisit memories of childhood, people who influenced your life and the times you felt a call for something new in your life, either by choice or by chance. We'll provide a unique discovery tool for tapping into the emotive power of your experiences so you write about both your joyful and sorrowful stories in a balanced way.
TELLING THE TRUTH & MAKING PEACE WITH THE PAST
(The Friends and Foes on Your Life Journey)
In this session, I'll teach you how to handle the challenges that get in the way of feeling safe to share your writing – stories about other people, sharing your truth, standards and expectations you set for yourself and your writing. I'll also share how to stay in alignment with your values and in integrity with what you put on the page.
You'll be invited to examine the obstacles, challenges, tests and "helpers" in your life. You'll take a deeper look at these experiences and how they influenced you. Using the transformative practice of reframing, you'll expand your perspective and find deeper meaning in the more difficult times as well as appreciate those who stood by your side. As a result, you'll write about yourself and others honestly and with compassion that produces truthful and affirming stories rich in meaning, insight and appreciation.
CELEBRATING INNER STRENGTH, COURAGE & RESILIENCE
In this session you'll be inspired to celebrate the courage, strength and resilience you showed during the toughest times in life.
You'll explore those defining moments in your life where you came face to face with your greatest fears, self-doubts or limitations. Whether you took the risk or withdrew, these are the times when your inner strength, courage and resilience shined through and you discovered capabilities you didn't even know you had.
You'll explore both the dark and the light of these times – from the inner critic, inherited family trauma, the drama triangle, and victim to empowered mindset – to identify your special gifts, your superpowers and the victories you've attained from facing your "dragon." Seeing these events and situations from a fresh perspective, you'll release feelings like regret, shame or guilt and honor and appreciate just how powerful you are!
MINING FOR THE GOLD IN YOUR LIFE EXPERIENCES
In this session, you'll explore your journey of personal growth and transformation as a result of the challenges you have faced in life. You'll begin to see that there is a gift in even the biggest ordeals in your life – even when things didn't turn out as you hoped.
Life doesn't always go the way you planned, but sometimes the door closing on you opens a new door of opportunity. After these turning points, you were different, perceived something differently or shifted in some way. With a deeper understanding of what it means to live for yourself rather than others, you'll feel empowered and see that life is happening for you instead of to you. As you progress through the videos in this module, you'll discover strengths and qualities you didn't know you had!
You'll also become aware of the abilities that lay dormant, were underutilized or shined the light on aspects of yourself that remained hidden in the shadows. With an open heart and mind, you'll step into a new space where wisdom can be appreciated as part of your own unique journeys.
HONORING AND SHARING YOUR INNER WISDOM
In this session, you'll tap into the wise elder within and find what truly satiates your heart. You'll explore the "never satisfied" state and the people pleasing habits that drain and deplete you. You'll experience inner shifts and an empowering appreciation and sense of awe for what you've lived through and achieved.
With this deeper gratitude for the lessons and the blessings in your life, you'll find the courage to own who you are, be seen and share your wisdom and experience with others. You'll know you have something to say.
Through embodying all aspects of yourself, you become a role model of self-acceptance that shines a light of hope for others. Sharing your life story creates a strong sense of connection that makes others feel a part of something bigger.
EXPLORING THE FUTURE & NEW POSSIBILITIES
In this session, you'll embrace your whole story in a way that empowers you to be seen, be heard and take charge of how you'll be remembered. Looking through a raw and tranquil lens of honesty, self-compassion and self-acceptance, you've reflected upon your experiences, behaviors, choices, and motivations that informed your choices and who you have become today.
Now you are invited to imagine what lies ahead. With a blank canvas upon which only YOU can paint – who do YOU want to become? What contribution do you wish to make? Engaging with yourself at this deeper level, you'll consider how different parts of your identity are vying for expression so you can shape your future and feel excited about the years ahead. You'll partake in an insightful experiment by communing with your future self. Take solace in knowing that whatever dreamy vision you hold within will manifest!
YOUR LIFE. YOUR STORY. YOUR LEGACY.
In this session, you'll be guided step-by-step through turning your life stories into a Legacy Journal you and others will treasure and share. I'll share tips to make editing your Legacy Journal a breeze. I'll walk you through how to organize your stories and how to create multiple Legacy Journals with selected stories you wish to share.
You'll learn how to find images that enhance your unique life story plus how to upload, format and add images to your Legacy Journal with ease. I'll also show you how to select the perfect cover that captures the essence of your unique life story. You'll leave with a one-of-a-kind Legacy Journal you'll treasure and feel proud to share!

Self-Guided Online Life Story Writing Course
Everything You Need to Write & Share Your Unique Life Story
When you purchase this online course, you'll have lifetime access and also a one year subscription to our intuitive writing software platform for free!
3 equal payments of $249 billed in first three months
Hi, I'm Joanna and I'm excited to share this journey with you.


Using my experience as a counselor and intuitive coach coupled with an extensive background in creating and facilitating successful personal development programs, I founded Journey to Legacy to help you uncover your unique experiences, valuable lessons and inner wisdom that deserves to be honored, celebrated and remembered.
My secret sauce is intuitively guiding people through a unique process of reframing their life stories in an intimate setting so they feel safe, seen and honored for who they are and the experiences that shaped their lives.
I created this self-guided online course for people like you who want to go through our life story writing framework on their own and at their own pace.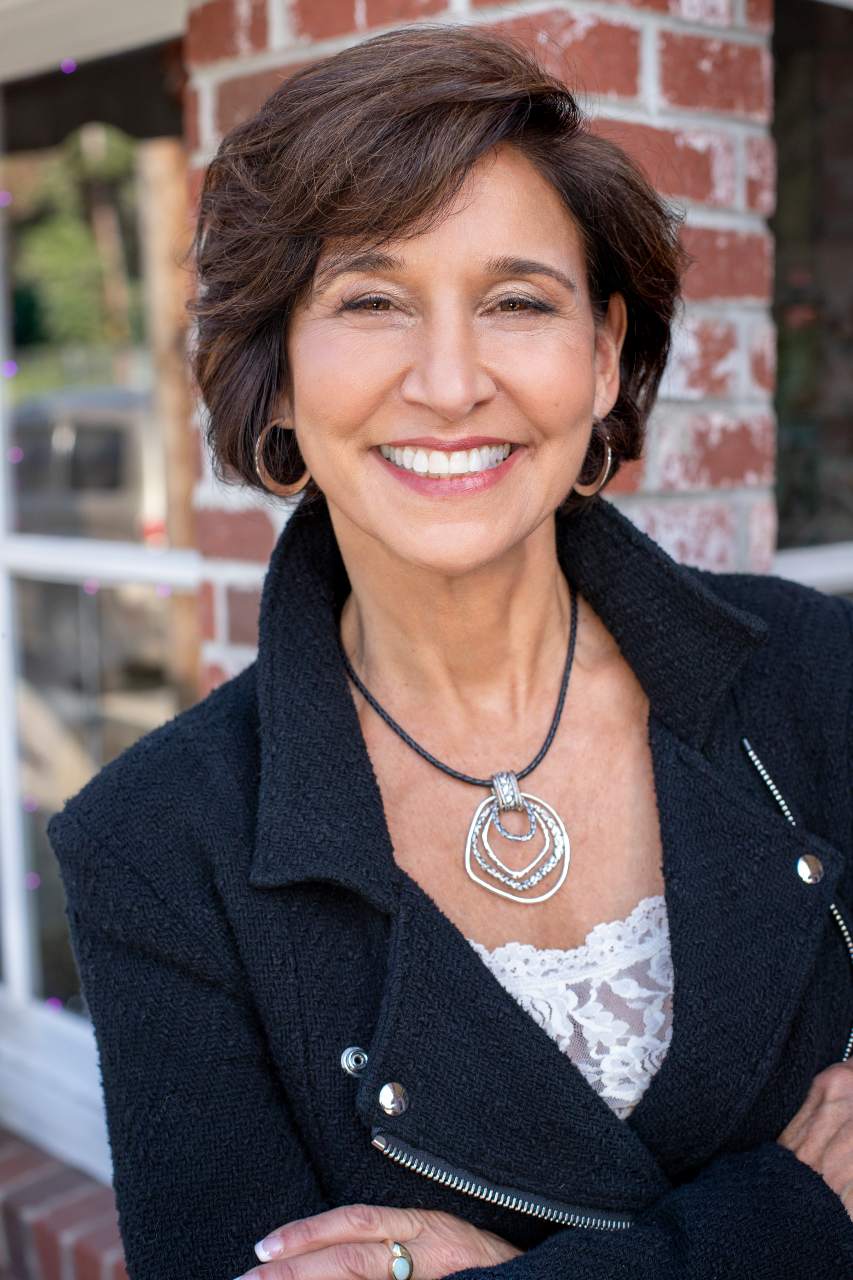 If you're here,
you're ready
to take charge of how you'll be remembered by writing and sharing your unique life story!

Is This Self-Guided Course Right for You?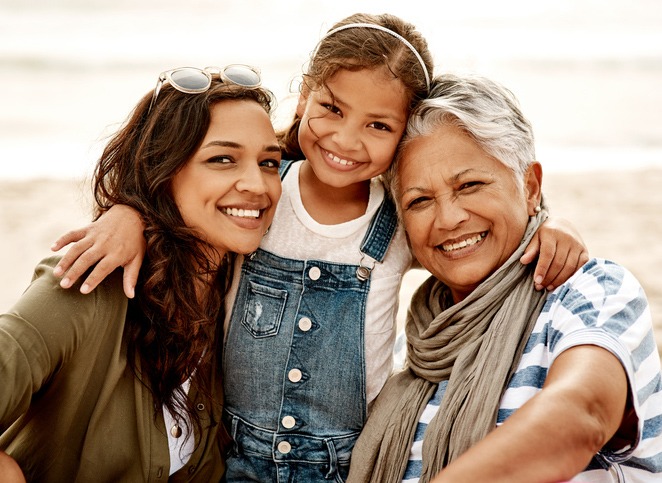 Now is the time to write and share your life story and I'd be honored to be your guide.
Life story writing is the catalyst for recovering key moments in your life that deserve to be honored, celebrated and remembered. As such, writing about your life requires vulnerability, courage and a willingness to look back on your life with a fresh perspective.
This self-guided online course is for you if:
You are naturally self-motivated
You believe writing is a transformative tool for greater self-awareness, self-healing and self-discovery
You're ready to be honest about how you feel about your life and your experiences
You flourish with structure, guidance and accountability
You want to gain deeper personal insights and a fresh perspective that gives your life meaning and direction
You want to find the courage to be seen for who you are beyond roles, title and labels
You'd love to feel encouraged and more confident in your writing and the process
You want to feel more compassion for yourself and others
You're not techy and need easy to use tools
You want to preserve your life stories for future generations
If you've tried to write in the past but kept getting stuck because you didn't have the structure or support to see it through, this self-guided online course is the perfect fit for you.


Don't Let Another Year Go By Wondering What Your Life Was All About
If you've made it this far, you owe it to yourself and to future generations to share who you truly are, what you've lived through and the impact you've made. Your life story matters and is meant to be recorded, shared and remembered.
We all take different paths and learn valuable lessons on our life journey. Reflecting on your life and those moments that made you who you are today is not only profoundly healing, but can help others feel more connected to something greater than themselves.
Through your story, you'll inspire hope, foster resilience and impart wisdom that honors the life you've lived and the contributions you wish to make moving forward.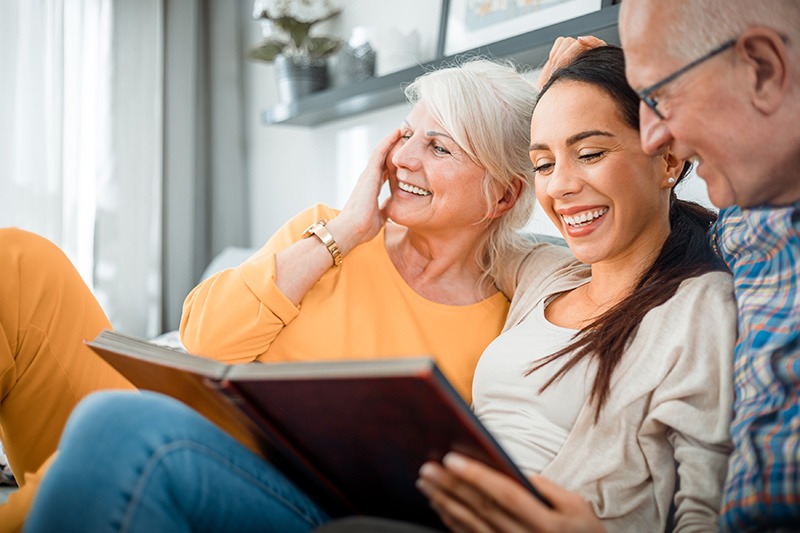 Your Life. Your Story. Your Legacy.

There is no better time to write your unique life story you're proud to share.
We Stand Behind Our Promise

We know how difficult it can be to make decisions regarding where you spend your time and your money. We want you to feel safe and secure when you invest in our course or program.
Because we're so confident that our self-guided online course has everything you need to write & share your unique life story – we offer a 15-day money back guarantee.
Here's how it works: You'll have 15 days to experience the course videos, complete the accompanying exercises and start writing your stories using the writing prompts and the writing platform we provide. If, within 15 days of purchase, you aren't convinced this self-guided course is right for you, simply email us and we'll happily refund your investment in full,
Answers to Frequently Asked Questions

Is this self-guided course simply a bunch of general writing prompts?
No. Thought and memory provoking, the prompts we provide are meant to take you deeper into your memories and experiences where breakthroughs and healing take place.
What if I can't remember much from my past?
That's a common concern and we understand why. The course lessons, prompts and guided visualizations are delivered in a way that jogs your memory and helps you explore the past in a gentle, safe way.
Do I have to be a good writer?
You do not have to be an experienced writer or worry about getting it right when it comes to punctuation, spelling or grammar. The prompts, guided visualizations and workbook make it easy and inspiring to write from the heart. Our intuitive writing software makes it easy to title, edit and organize your stories for a cohesive and memorable Legacy Journal.
How much of my time will this take?
This self-guided online course is broken down into small, digestible modules so you can fit writing into your regular routine. This course is designed in a way that makes you look forward to your writing time without feeling overwhelmed or under pressure to produce.
What if I don't think I have anything worthy or exciting to write about?
I hear this often, and I want you to know that we all have important stories! We have all experienced joy and pain. We have gained wisdom and lived through history in the making. Our mission is to help you find stories from your life that shine a light on the lessons you've learned and the wisdom you've earned so you feel good about the life you've lived and the years ahead. Your life is full of golden nuggets of wisdom and inspiration! Being asked the right questions and guided more deeply into those questions, you'll find you have a remarkable history and story to share.
Why do you require an application to join?
No application or other pre-requisite is required to register for our self-guided online course.
What happens if I get stuck after I sign up?
If you register for our self-guided online course and need help with technical aspects, we are here for you. You will have support via email so our team can help you move past any technical issues you encounter.
How long will I have access to this course and writing software?
Once you register, you'll have lifetime access to the self-guided online course. In addition to the course lessons, you'll also have access to our intuitive writing software for 12 months from date of purchase. You can renew your subscription to our writing software annually for a nominal annual fee.
What if I'm not sure anyone will read my life story?
This is a common worry for many life story writers. The truth is, you'll never know unless you write your story and you may not live to see the impact your stories will have on those who follow. However, using a unique method to recall those key moments in your life that shaped who you've become often results in surprising revelations and wisdom that impacts your future and the lives of others when shared.
What if I'm worried others will judge me once they read what I've been through?
In our self-guided online course, we share many tools and exercises to help you find ways to share truthfully (so that loved ones can really know you), while remaining in complete control of what you share and with whom.
What if my past is too painful?
As a counselor and intuitive coach, I know how difficult it is to experience and recall painful memories. In the self-guided course, you'll be gently guided to explore the difficult experiences that influenced who you are today. However, you do not have to go beyond what is comfortable or feels right for you. There are many exercises that help you make peace with some of the most challenging moments of your past and celebrate your strength and ability to rise above. You'll also have a safe and compassionate community of other life story writers to lean on throughout your journey.
What should I consider when choosing between the different programs?
Being honest about what you need to be successful is critical. If you are self-motivated and have a strong desire to explore your past without an intuitive guide, the Self-Guided Course is right for you. If you have trouble following through or want the many benefits of being a part of an intimate community of fellow life story writers including the opportunity to share stories and give and receive loving feedback, Journey to Legacy 12- month coaching program is the best option for you.
What is your refund policy?
If you purchase this self-guided online course and feel it is not right for you within 15 days of purchase, you are protected with our money-back guarantee. Simply email us and we will process your refund. 
What if I'm not ready but want to learn more about how this process works?
We recommend starting with our free downloadable guide so you get a feel of what's involved and the process of life story writing. You can also schedule a call to ask any questions you have.

Self-Guided Online Life Story Writing Course
Everything You Need to Write & Share Your Unique Life Story
When you purchase this online course, you'll have lifetime access and also a one year subscription to our intuitive writing software platform for free!
3 equal payments of $249 billed in first three months
If you purchase this online course and feel it is not right for you within 15 days of purchase, you are protected with our 100% money back guarantee. Simply email us and we will process your refund.